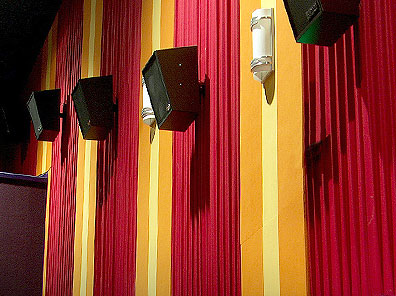 Acoustical Panels
Made-to-order Soundfold fabric-wrapped acoustical panels act as dramatic design elements, as well as sound ab- sorbers and reverb reducers. They add yet another dimension to a memorable cinematic experience.
Shown Left: Combine Soundfold acoustical panels and drapery for a distinctive decorative style.
Acoustically and Aesthetically Above the Competition
The excellent performance of the Soundfold acoustical panels is the result of our search for the best built, best looking panels on the market today. The surface is splatter-coated with adhesive to leave the surface open for better sound absorption. Edges can be chemically hardened to reinforce panel perimeter. Fastening systems include Velcro, mounting clips, or construction adhesive for permanent or temporary mounts.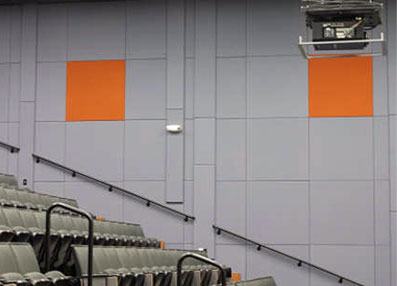 Custom Cut Shapes, Clusters and Full Walls
From waves to art deco shapes—even specially designed inlays—Soundfold fabric-wrapped panels give your designer room to create. "Endless design" means your designer can start with our basic 4'x8' panels and use most fabrics, of any color, cut into any shape of any of the three panel thicknesses—1", 1.5" or 2". Panels can also be combined with Soundfold drapery, as well as sconce lighting accents, for a dramatic effect. Your theatre audiences enjoy a stylish environment before the lights go down.

The Soundfold Difference – Edge Options And Diagram Of Insulation With Fabric